DO
W

NL

O

ADS
THE GAME
A Super Nintendo emulator is needed to play Arcana. You can download one from my emulators page. If you need assistance with any of the emulators offered on my site, check out my emulation help subsite: Video Game Emulation for Newbies.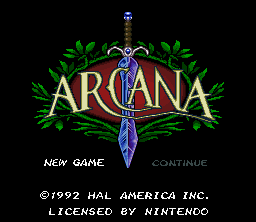 Arcana (U)
The official North American release of Arcana. As I mentioned in the About the Game page, not everyone is a fan of the official English translation. It was a sloppy job.
ROM HACKS
Experience Arcana in entirely new ways with these ROM hacks! I'm distributing the hacks here in two ways: "pre-patched" and "patch". The "pre-patched" download is the hack already applied to the game--just download and play! The "patch" download is just the patch; this is for people who insist on patching the game themselves. If you would like help with patching, check out my patching tutorial.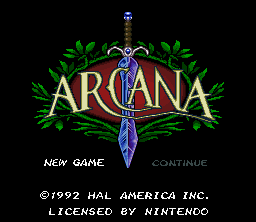 Arcana: Easy Type
Arcana can be a brutal game when it comes to challenge. If you want an easy experience and just want to enjoy the story, try this Easy Type hack. It adjusts the character stats to 999 HP/MP and 99 for everything else.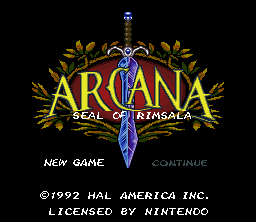 Arcana: Seal of Rimsala
This hack is the definitive version of Arcana! It offers an entire new experience. Here are the highlighted features:
Faster gameplay, redrawn maps, and a coherent story.
Explore remodeled dungeons and search for new items!
Overhauled weapons and armor.
Battle the Seal of Rimsala mascot, Mimic!
Undoes 90's Nintendo censorship.
One-page level-up screen; no more scrolling!
New status screen with stat icons and monster bonuses!
Tons of unused content debuting.
Easter eggs and bug fixes.
Hundreds of tiny tweaks.
Read the ReadMe.txt in the zip file to learn more about what this hack offers.