TALES OF PHANTASIA for SNES
Tales of Phantasia is a Super Nintendo RPG by Namco that came out in Japan in 1995. In January of 2001, the fan based English translation was released by DeJap Translations. This made it possible for us to experience Tales of Phantasia completely in English via video game emulation.

Tales of Phantasia was the first RPG for the SNES to feature a full J-Pop song and tons of voice acting. Not only that, the battle system is none like anyone had experienced before. They take place in a separate battle sequence like in any other RPG, but it plays like a 2D version of Secret of Mana. Tales of Phantasia was never officially released in North America because they felt RPGs weren't popular enough at the time and that it wouldn't be worth it. I have a scan from the November 1995 issue of GamePro (click left thumbnail to view) talking about Tales of Phantasia. I suppose a North American release was considered at one point.

TALES OF PHANTASIA for PSX
In December of 1998, Namco re-released Tales of Phantasia for the Sony Playstation in Japan. On Christmas Day in December of '07, the unofficial fan based English translation was released by throughhim413 and Gemini of Absolute Zero Translations. However, it wasn't 100% translated. On December 31, 2012, Phantasian Productions released their 100% complete English translation. Anyway, Namco gave this PSX version a huge overhaul! Practically everything was remade: graphics, animation, soundtrack, etc. They even recreated the world map in full 3D, and remade many of the town maps! Suzu becomes a playable character, Chester has techs, Klarth gets the summon Pluto instead of Chameleon, Arche's many annoying death spells are replaced with attacking spells, Mint gets a new voice actress, new side-quests, and all new sprites for all characters! If you wish to view screen shots from this version, click here, and here.

TALES OF PHANTASIA for GBA
In August of 2003, Namco re-released Tales of Phantasia for the Game Boy Advance in Japan. Because of the success of the recently released "Tales of" titles, Namco finally decided to officially release this game in North America/Europe three years later in March 2006 (sheesh, talk about late). This version is a mix of both SNES and PSX versions, with many features found in the PSX version in the SNES graphic package! Klarth can summon both Chameleon and Pluto, the character sprites, skills, Suzu, etc. are taken from the PSX version, and it features all new side-quests not found in either the SNES or PSX versions. If you're curious what Nintendo chose to advertise as Tales of Phantasia's highlights, click here for their commercial "fact sheet".

TALES OF PHANTASIA: The Animation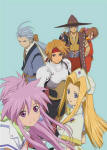 As most of us are into anime, it's a dream come true whenever an anime series is created based on a popular RPG. In early 2005, almost a decade after Tales of Phantasia's release, the RPG community was shocked to hear about a Tales of Phantasia anime series in the works: Tales of Phantasia: The Animation (a.k.a. the Tales of Phantasia OVA). Yup, it's true. The expectations of RPG fans have been met, this anime series is very well made and absolutely gorgeous. The only unfortunate thing about it is that it's a very short series with only 4 episodes. Well that's all I'll say about it here. I have a whole section in this site dedicated to Tales of Phantasia: The Animation, click here to visit it.

TALES OF PHANTASIA for PSP (Japan-only)
Wow, Namco just keeps on milking Tales of Phantasia! In September of 2006, they re-released Tales of Phantasia for the Sony PSP with the title "Tales of Phantasia ~ Full Voice Edition". This version of the game is largely based upon the PS1 release, and contains completely redone voice acting which are now used for most story events. There's also new battle sprites for the main characters that are more on par with those of later games in the series, such as Tales of Eternia. The PSP port also includes a grade system, also from later games of the series. Click here to view some screen shots from the game. So is this version going to see a North American release? Hmm, unlikely! Nintendo has its greedy hands on the license for the English version of Tales of Phantasia.

TALES OF PHANTASIA for iOS
In January '14 the iOS version of Tales of Phantasia was released. It's a port of the PlayStation 1 version. This version has touch-screen controls, achievements and leader boards, as well as voice-overs and revamped animations. However, Bandai Namco removed it after mere months. They apologized for the inconvenience, but didn't explain why they removed the game. While some enjoyed the game, others were frustrated with its monetizing system. It was free-to-play, but ramped up the difficulty level with in-app purchases in mind.