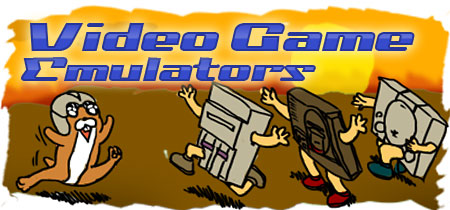 Video Game Emulators
Here you will find all the best video game emulators for every common OS & device!

Windows

Emulators for Windows

Android

Emulators for Android devices

Other
Emulators for iOS, OSX, Chrome OS…

iOS
Unfortunately, Apple does not allow video game emulators in their App Store. Rather, you do have options. There are lots of RPG classics that were officially released in the App Store. They go for around $3-18 US. Those RPGs are:
• Adventures of Mana


• Castlevania SotN


• Chrono Trigger


• Dragon Quest I
• Dragon Quest II
• Dragon Quest III
• Dragon Quest IV
• Dragon Quest V
• Dragon Quest VIII
• Final Fantasy 1 Remaster
• Final Fantasy 2 Remaster
• Final Fantasy 3 (3D)


• Final Fantasy 3 Remaster
• Final Fantasy 4 (3D)


• Final Fantasy 4 Remaster
• Final Fantasy 5 Remaster
• Final Fantasy 6 Remaster
• Final Fantasy 7

• Final Fantasy 9


• Final Fantasy Dimensions
• Final Fantasy Tactics
• Lunar Silver Star Story


• Phantasy Star II


• Secret of Mana


• Shining Force 1 & 2


• Vay
• Ys I & II Chronicles


= works with Bluetooth gamepads
Due to Apple's ban on emulators, I can't just simply list emulator options here and call it a day. Loading emulators onto your iPhone or iPad is a bit more complicated than that. The good news is that there are safe workarounds (no jailbreaking necessary) for loading emulators. Check out my tutorial to learn more about them.

Mac
The most popular emulator on OSX. It's a multi-system emulator that supports around 30 systems! It has a nice and clean UI, too; as expected from the reputation of Mac apps. Make sure to check out its wiki for help and to explore all the features available. Don't forget that several systems such as PlayStation 1 and Sega CD require the BIOS files to work, which you can download from the Windows tab.
If you're not happy with OpenEmu or prefer standalone emulators, you can download all of them from the #1 website for video game emulation on OSX, MacScene.net! It has a pretty active community, too. • You might also want to check Bannister.org because that guy alone made the majority of the available video game emulators for Mac. In other words, he's like the father of video game emulation on OSX. • For some reason, MacScene.net doesn't have a PS1 emulator posted. The best PS1 emulator on Mac is DuckStation. PCSX-Reloaded is a close second.

Chromebook (Chrome OS)
If you have a newer Chromebook with access to the Google Play Store then all the magic and wonder of Android's strong selection of video game emulators are at your fingertips. I've tested the popular emulators on Chromebooks and they all work great. RetroArch is a top emulator I recommend for supporting over 40 systems.
If you have an older Chromebook that doesn't have access to the Google Play Store, GPemu is for you! It's a multi-system emulator supporting Game Boy, Game Boy Advance, NES, and SNES. It works offline, has save states (right-click screen for access), and can load zipped ROMs. Emulation quality is pretty good with only a bit of scratchy audio. You need to manually enlarge the window to blow it up to a good size. Gamepads are not supported (they generally aren't on Chromebooks). You may want to check out browser-based emulators as well (they might fare batter than GPemu).

Linux
The easiest way to install video game emulators is to first install the Software Center (if you haven't already). There are plenty of videos on YouTube showing you how. Once installed, simply do a search for emulators to bring up the full list. Most of the emulators should work. Depending on your system and setup, some may not work. To install video game emulators manually without the Software Center requires a bit more than a beginner's understanding of Linux. YouTube is definitely your friend if you want to learn more about this. There are some really helpful videos out there, like this one: How to Create a Retro Gaming System with Ubuntu. Have you heard of the ultra-affordable Raspberry PI? You can easily turn it into a RetroPie: How to set up a RetroPie. So for $35 US you'd have the ultimate video game emulation system!