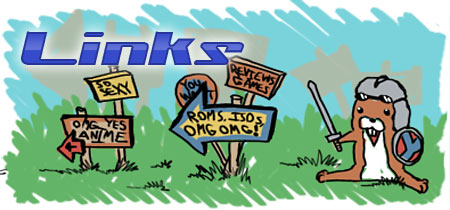 Links
Honorable Mentions
In my eyes these are some of the best websites on the Internet!
Manga
MangaDex - Currently, the top manga site.
Manga Reader, Manga Panda - Good manga sites. Note: These two are the same site, just with different regional permissions.
Streaming Anime
Nyaa.si - This is actually a torrent site. You can download almost any anime from here.
Netflix - You probably know this already, but Netflix is excellent for anime. They keep picking up exclusives of top anime that you can't watch anywhere else. The only catch is that you need to pay to subscribe. They don't offer a free ad-supported option like Hulu or Crunchyroll.
Crunchyroll - This is the #1 site for anime streaming from Japan! They also have an app for mobile devices, set-top boxes, and video game systems.
Funimation - This isn't as good at Crunchyroll, but they have lots of anime favorites that you won't find elsewhere (for streaming). Like Crunchyroll, they have an app for mobile devices, set-top boxes, and video game systems.
Hulu.com - If you don't mind commercials, Hulu has tons of big name anime up like My Hero Academia, Naruto, Bleach, Dragon Ball Z, Yu-Gi-Oh, Inuyasha, Fairy Tail, Fullmetal Alchemist, Hellsing, Full Metal Panic, and more. By the way, if you install AdBlock it removes the commercials :)
Manga Entertainment's Channel - They put up several movies such as Street Fighter and Dead Space.
Toonami Aftermath - This is a live streaming site dedicated to the old Toonami program on Cartoon Network. It's not spammy and full of ads either.
Emulation/ROMs
Sites with a
have ROMs for every 8-bit/16-bit video game system. That includes NES, SNES, Genesis, Gameboy, Game Gear, Sega Master System, etc.
The Eye
- Excellent site with no ads and no hassles! They have pretty much everything up to the 32-bit era. They also have Switch, NDS, N64, PlayStation 1, 3DO, Neo Geo, Dreamcast, Saturn, and Sega CD.
Vimm's Lair - A legendary ROM site that's been around since the 90s! What I love about this website is that ads are minimal, the design is imple, and there's no hassle. Their selection of system offerings is a bit limited, but they offer the best stuff: NES, SNES, N64, GameCube, Wii, Genesis, PS1, PS2, and all the Game Boys.
Google + Reddit (ex: PlayStation 2) - This link is an example of how you can use Google to find valuable links on Reddit. People upload large games to Google Drive or other cloud platforms such as PlayStation 2, PlayStation 3, PSP, Wii, and Switch ISOs. You won't find these links on Google, but you'll find them on Reddit. You can use Google to help search Reddit with search phrases like "reddit download playstation 2 isos" or "reddit download nintendo switch games".
Edge Emulation
- This awesome site has pretty much every system up to the 32-bit era. They even have Saturn and Dreamcast; but they don't include PlayStation. They don't bombard you with ads and downloading is easy.
Doperoms
- Good site with everything, including retro computers, Wii, GameCube, NDS, PS1, PS2, Dreamcast, and XBox. There are lots of ads, but downloading is easy.
Rom Hustler
- Includes Sega CD, N64, Saturn, and arcade. There are tons of ads, too.
Portal Roms
- Great site that also has 3DS, Wii, Wii U, Gamecube, PSP, PS1, PS2, and arcade. Downloading is via torrents.
RomNation
- Includes Sega CD, N64, and arcade. There are tons of ads, too.
Internet Archive: Old School Emulation Center - Download massive zip files that contain all games for a given system. They have SNES, Genesis, Game Gear, and a whole bunch of retro computers. There are no ads and no nonsense.
Planet Emulation
- It's a foreign site. They have a good collection of ROMs including N64, Saturn, and MAME (arcade).
Zophar's Domain - A great place for video game emulators, music (SPC, PSF, GYM, GBS, etc.), emulator save states, cheat files, and more!
Browser ROMs
It's possible to play ROMs in the Internet browser! This is awesome if you want to play games on a work computer, public computer, or on a Chromebook.
Retro Games Online - Play NES, SNES, and Genesis games via JavaScript, and supports save states. The page has lots of ads and they play a commercial before the game loads.
PS1Fun - Play PlayStation 1 games via JavaScript, and supports save states.
SnesFun - Play SNES games via Flash Player, and supports save states.
SSega - Play Genesis games via Flash Player, and supports save states.
8bbit - Play NES games via Flash Player, and supports save states.
Internet Archive: Arcade, Genesis, Game Gear, MS-DOS - Play these classic systems via JavaScript.
Game Reviews
Flying Omelette's Kitchen - Go here for excellent reviews on classic games and other interesting game-related stuff! This place is also home to a massive cameos database.
Hardcore Gaming 101 - As the name implies, hardcore gaming has extensive reviews covering games of every genre and era. What's most interesting about this site is that the majority of its review sections covers the entire game series.
NESquester - A blog, "where one man quests to play every NES game in order"! This guy writes great, funny NES reviews.
Sega-16 - They have tons of game reviews and interesting articles about all sorts of Sega-related things.
Deathamster's Nest - In addition to great game reviews, they also also have original sections, like game bloopers, game ideas, game humor, nonsense shrine, and more.
CodieKitty.com - Dedicated to providing retro reviews and various other interesting stuff.
NES Player - This place is neato! He designed each game section like if it was a separate website, like me. :)
NES Retreat - This place is pretty cool; it's a similar style of Flying Omelette's site.
Tri-Ace Superfan - A bit small, but interesting.
Gaming Archives
Video Game Museum - A huuuge archive of video game screen shots, box scans, ad scans, game endings, music, sprites, and more!
Replacementdocs - Contains thousands of video game manuals from various systems of classic and recent ages.
Retromags - This is an amazing website!! You can download any issue from nearly every classic gaming magazine! From the 80s, 90s, and early 2000s.
Vimm's Lair - Another site with thousands of game manuals form various systems. Click on "Manual Project".
Sprites
VideoGameSprites.net - My friend's site. She has a vast collection of NES, SNES and PSX sprites! Her SNES collections are THE BEST on the net!!
Shyguy Kingdom- An excellent, massive sprites site; contains thousands of video game sprites and from many systems!
Video Game Maps
VGMaps.com - The #1 website for video game maps. They're so good they crushed all their competition!
Mac Gaming
MacScene - An excellent website and community for those who are into Mac video game emulation. They have all of the available emulators.
Macintosh Garden - This place distributes great classic games for the Mac. Doom 2 and SimCity 2000 are two examples of what they have.
Mac Game Files - A good Mac gaming site. Has up-to-date news, reviews, demos, tools, and more.
RPG Sites
RPG Classics - They're like GameFAQs, but they only focus on RPGs and their walkthroughs are organized in a website layout. It's an excellent website with a strong fan base that has been around since '97! They have other stuff like a community, fan art, fan fics, fan music, and more.
Shining Force Central - The #1 fansite for the Shining Force series!
The Phantasy Star Pages - My favorite fansite for the Phantasy Star series.
Icy Brian's RPG Page - This website is beyond excellent. It's been around since '97! Unlike all those other fancy smansy RPG sites, Icy Brian's page has a strong fan base. It's probably most well known for its massive archives of quality fan fics and fan art. There's also game reviews, an IRC chat, forums, and more!
RPGamer, RPGFan - Excellent sites dedicated to reviewing RPGs of all kinds.
Final Fantasy Shrine, Eyes on Final Fantasy, Final Fantasy Extreme - Excellent sites dedicated to reviewing every Final Fantasy.
Fan Translations
Romhacking.net - This is the #1 site for translation news and ROM hack news! They're the most up-to-date with all the juicy translation news out there.
Aeon Genesis Translation Proclamation - This is the domain of the almighty Gideon Zhi! He's one of the most active rom hackers in the translation scene.
Translation Corporation - These are the people who translated Dual Orb 2! Now they're working on Emerald Dragon, WOZZ, and others.
Dynamic Designs - This group has been around for a while. They're translating a nice collection of games.